If you are looking for Munsters DVD's, please click the graphic below! I added the two new releases, the Complete Series DVD and the colorized "Family Portrait" episode,
(which is included in the Complete Series box set.)
Thanks, kiddies!
You can order also Steve Cox's Munster Book and Helen Darras' Butch Patrick's biography, too!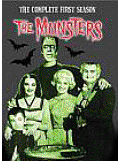 (There's Addam's Family DVD collections on the same page for you crossover fans!)